Spoilers from Season 8 included
It was one epic journey for the police sitcom show Brooklyn Nine-Nine. The show ran for eight seasons across two networks, and had a brief cancellation, before being picked up again. But now, it's finally time to say goodbye.
The final episode had a runtime of one hour, and brought back familiar faces from the show's past. But the show didn't get a proper send-off in its home channel, since it had to air at 7 pm to make room for the Giants game on the local NBC station.
The Finale Episode
Season 8 was more serious compared to past seasons, as it addressed police brutality. This was decided in the wake of George Floyd's death in May 2020, giving rise to the 'Black Lives Matter' movement.
Jake (Andy Samberg) decides to hold another heist to celebrate Amy's (Melissa Fumero) last day at the precinct, since she was promoted in the previous episode. The prize is a medal of valour hidden in a golden tube.
The episode is filled with the usual stuff that makes each heist episode entertaining: ulterior motives and backstabbing. Past characters like Gina (Chelsea Peretti) also make a return to take part in the heist.
Final goodbyes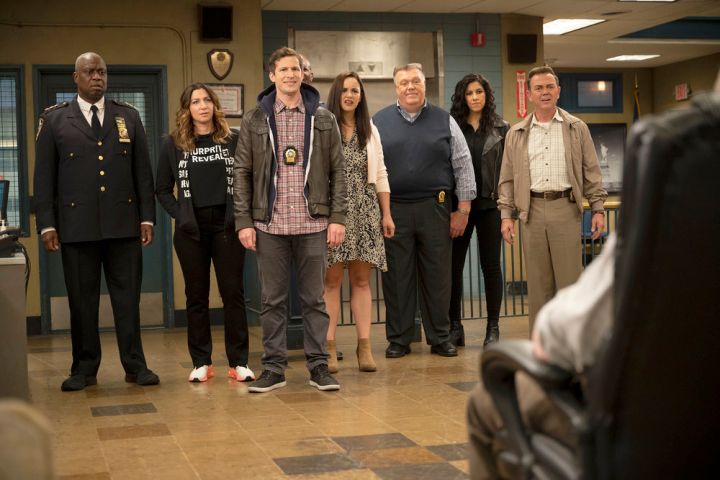 Many surprise reveals happen during the heist. Captain Holt (Andre Braugher) promotes Terry (Terry Crews) to be the next captain of the 99th Precinct. Jake later reveals that it will be his last day in the squad as well. He plans to retire and spend more time with his child as Amy gets more busy as the Chief.
But who won the heist? Surprise surprise, it was Hitchcock, who lied to everyone by saying he went to Brazil when in fact he was living in his van. The others weren't too pleased.
A year later, as Terry is holding a meeting, Jake decides to make a surprise appearance with Holt, Amy, Rosa, and Gina. Together they plan the next heist to take the trophy from Hitchcock.
The heist is never over.
Also read: Emily Deschanel will Lead Netflix's New Adaptation 'Devil In Ohio'