"I don't have a uterus and she is pregnant but we out here," Schumer shared on Instagram
Jennifer Lawrence and Amy Schumer stood in solidarity for abortion rights at the Rally for Abortion Justice in Washington, D.C., on Saturday. The Women's March protest was at the Freedom Plaza at the U.S. capital and Schumer shared a pic of the duo.
Schumer's surgery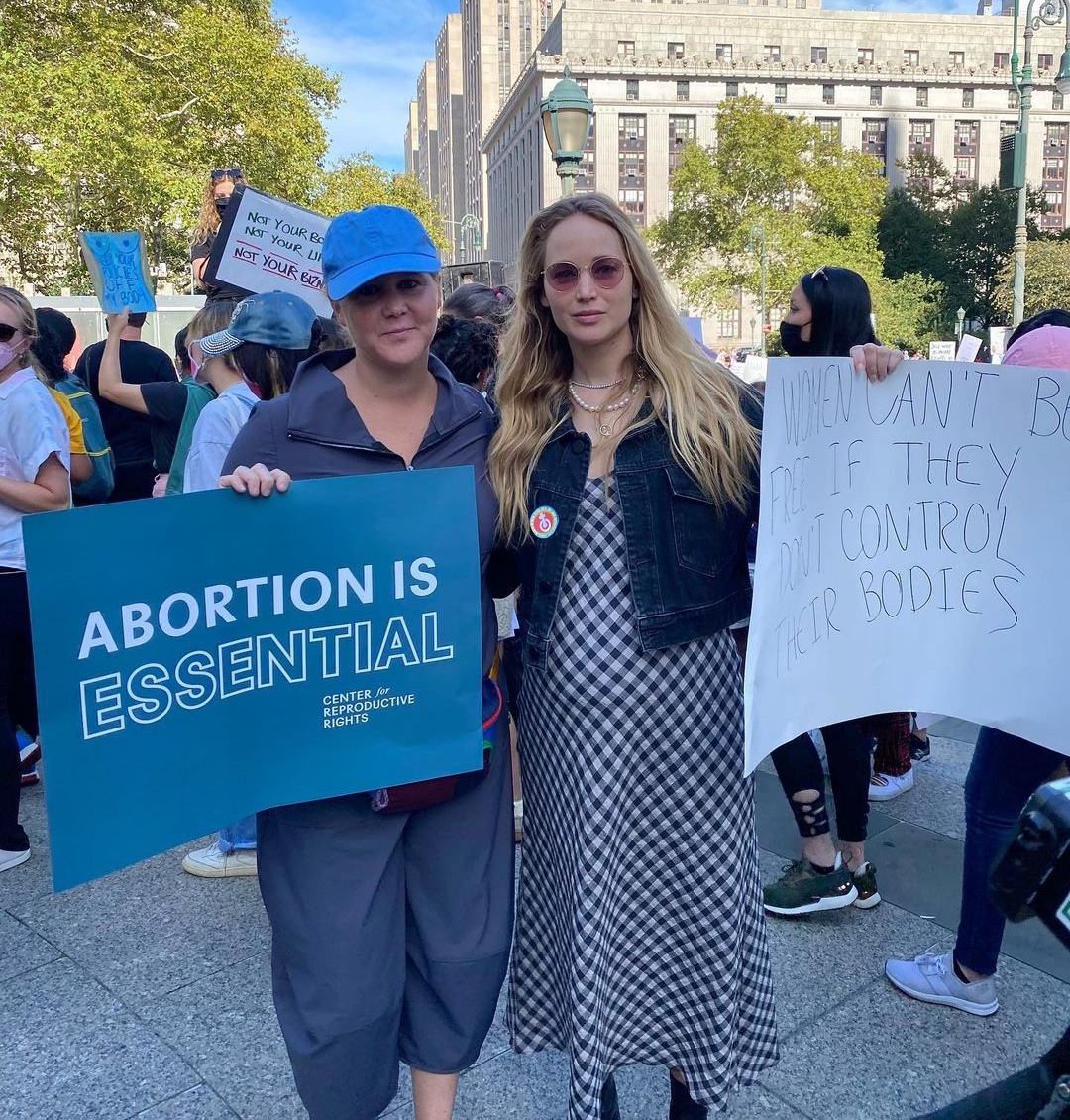 Schumer uploaded the pic on Instagram, and captioned it, "I don't have a uterus and she is pregnant but we out here @womensmarch @plannedparenthood #rallyforabortionjustice."
Schumer wore a blue jumpsuit and a blue cap, and held an "Abortion is Essential"sign, while Lawrence held a sign that said, "Women can't be free if they don't control their bodies." Her growing baby bump was also noticeable.
The comedian was in the news recently after she removed her uterus and appendix following years of pain. Her doctors determined that it was a case of extensive endometriosis. It's a condition that causes the tissue that usually lines the uterus to grow outside of it. Schumer spoke about feeling reborn after the surgery and is bursting with energy to be with her 2-year-old son Gene.
Lawrence is currently expecting her first child with husband Cooke Maroney. A source for the X-Men: First Class actress said that she wanted a family for a long time and is looking forward to being a mom.
The Abortion Rallies
Over 650 rallies took place in the United States on Saturday, with over 120,000 protesters. The protest will be against the Supreme Court as they consider to implement another restrictive ban on abortion rights.
The abortion laws were made even tighter after Texas enacted Senate Bill 8, the most restrictive abortion law in the States. It prohibits abortion after six weeks of pregnancy, which is outrageous as most people won't realize they're pregnant. In fact, no exceptions are allowed to pregnancies stemmed from incest or rape.
Also read: Disney World Celebrated its 50th Anniversary with Historical Pictures and Breath-taking Fireworks Show